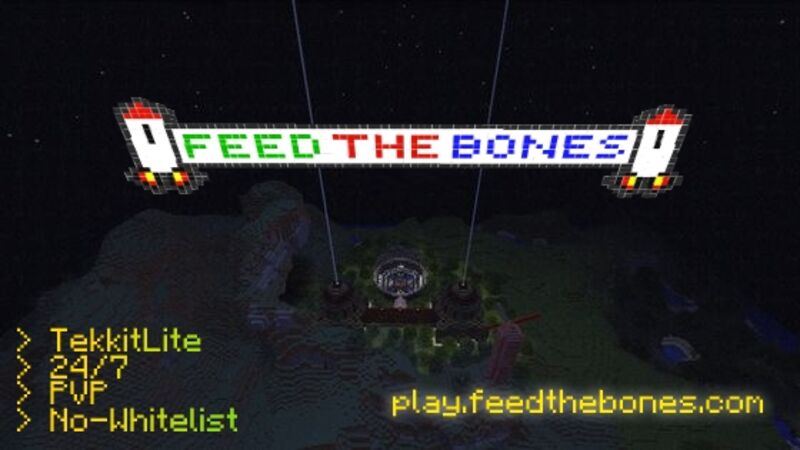 Feed The Bones - 100% TekkitLite 0.6.5 FUN!
Feed The Bones is a 24/7 PVP TekkitLite server. If you're wondering what TekkitLite is then look no more because - it's basically a fun Minecraft Modpack. We're open to the public (No Whitelist).
Check out our website for the full details, or why not just visit our server?
SERVER RUNS 0.6.5
RULES
*Player Versus Player (PVP), Raiding, and Griefing is allowed on our server
*Spamming is not allowed on our server. No one wants to be spammed nor see spam, so just don't.
*No excessive use of capital letters is allowed.
*Do not advertise of other servers. The Feed The Bones staff don't hop on to your server advertising about theirs, so please leave our server free of these advertisements.
*Do not ask for staff positions or builder permissions. Make a application on our forums at feedthebones.com and wait for a staff member to answer it
*No pushing AFK people spawn or in the warp chambers/warp cities
*No hacks are allowed
*Do not impersonate staff or other players
*Staff are the law, they know the rules so follow their guidance
*If staff is on, leave the moderating to them
*Use common sense on the server
*If you catch anyone breaking the rules report it on our website on the right section with some screen shots or a video clip. verbal evidence isn't enough
*Report rule breakers at feedthebones.com
Joining our server
Grab Tekkit Lite via http://www.technicpack.net/download

Start the Launcher

Select Tekkit Lite on its image on Left Slidebar

Put in your user data

Launch

Enter our multiplayer server address: play.feedthebones.com

Join our online community
There are no reviews for this server yet, you can be the first!