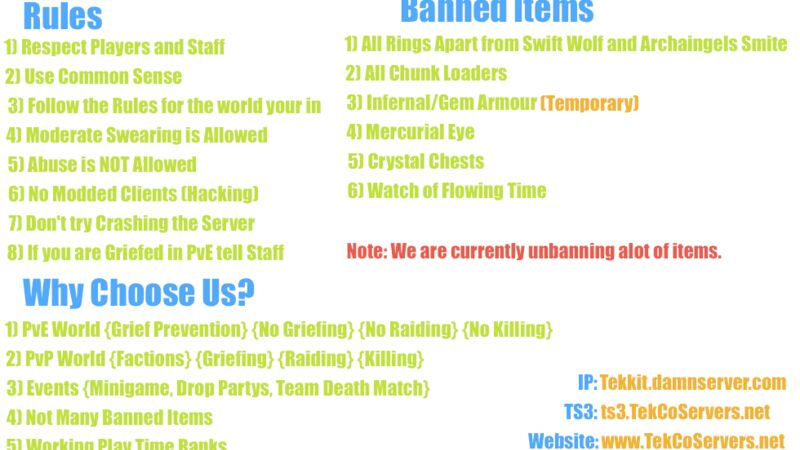 This is GForceGamings Tekkit Classic server
Server IP: tekkit.damnserver.com
Website: GForceGaming.enjin.com
Team Speak: (Sorry! Offline!)
Version: Tekkit Classic 3.1.2
Plugins:
Factions (For PvP World)
Grief Prevention (For PvE World)
Chest Shop (For Shops)
Random Teleport (Teleports you around the world to a random place)
Custom Mall Plugin (Only for our server)
Custom Anti-Hack Plugins
We run about half custom plugins for best experience@
Features:
Friendly, mature and professional staff
Minimum lag (Doesn't go below 20 Ticks Per Second)
At least 99% uptime
24/7
PvP & PvE
Dedicated server
Events
Active Website and Forums
Team Speak 3
Donations
Mall
Hello Tekkit'ers
Are you looking for a server which doesn't look at MK1 2 and 3s as a way to gain more donations?
Are you looking for a server which listens to the players?
Are you looking for a server that doesn't have silly rules and random banned items?
GForceGaming is the server for you. At GForceGaming we don't take donations as our main priority, we do indeed have donations put aren't a high priority, however our main priority is the players who play on our server.
We have a playing time rank system. More info @/warp ranks
GForceGaming also holds a monthly Event were we will give out Optifine Capes, Donator Ranks, In Game Money and more!
We don't believe in Map Resets unless it is a very serious issue, most servers reset their maps every few months.
The only reason we run like we do is our awesome players!
So Enough reading, just come and find out for yourself :D
Server Specs:
Dedicated box
2.6 GHz Intel i7 Quad-Core
8GB RAM DDR3 1333 MHz (ECC Certified)
128GB SSD (For Server)
500GB HDD 5400 RPM (For Backups)
100 Mbps Network Port
Unlimited Bandwidth
NZ Located
Because of these awesome specs we run 20.0 TPS all the time.
We even have a live TPS meter on our website!
There are no reviews for this server yet, you can be the first!