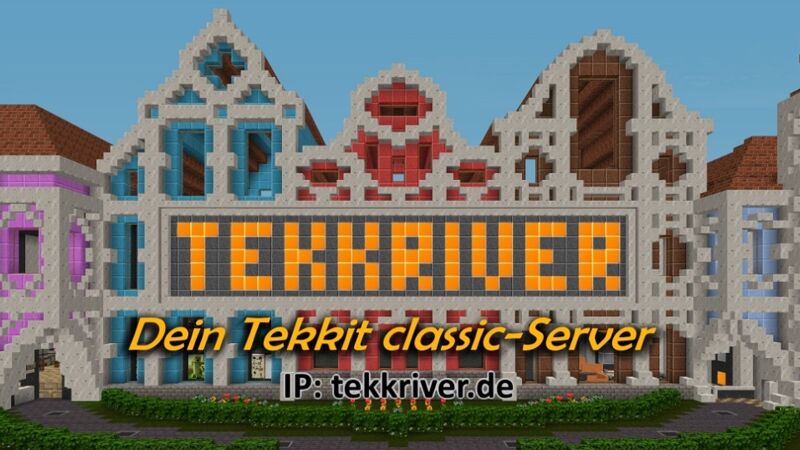 german description:
TekkRiver – Dein Tekkit classic Server
Server IP -- tekkriver.de
TS 3-Server -- tekkriver.de
Homepage -- www.tekkriver.de
TekkRiver bietet dir (neben den vielen Möglichkeiten der Mods):
ServerStädte – Städte in denen alle Grundstücke ungefähr gleich groß und flach sind, außerdem gleich viel kosten und der Baustiel "Freestyle" ist
UserStädte – Auch du kannst dir nach einiger Spielzeit eine eigene Stadt zulegen, weil diese Städte von Usern erstellt werden sind die GS verschieden groß und unterschiedlich teuer, der Baustiel hier wird von den Bürgermeistern der Stadt festgelegt
Freebuild – Hier kannst du dich frei vom Zwang vorgegebener Grundstücke nach Bedarf ausbreiten
TekkBlock – Baue dir ein Reich im Nichts mit begrenzten Recourcen (nicht das "bekannte Tekkit SkyBlock"!)
FunWelt - hier gibt es Jump & Runs, Paintball, bald PVP und vieles mehr um sich vom der Technik zu erholen
User-Shop – hier können Spieler untereinander handeln
Einen eigenen TS 3-Server
Ein freundliches, deutsches Team
Eigene Plugins
Nur wenig Laags
Gute Server Technik (www.tekkriver.de/in-zahlen)
Viele schöne Bauten und Möglichkeiten
Viele Details/versteckte Orte die es zu entdecken gibt
Eine funktionierende Econnomy mit Jobs
Ein vernünftiges Server-System, durch inzwischen schon 4 Jahre+ Erfahrung
…
Wissenswertes:
Bei uns können Türen/Maschinen/Kisten (auch Diamant-Kisten) mit einem [private]-Schild gesichert werden, auf Grundstücken ist aber alles bereits geschützt.
Du kannst parallel sowohl in den Städten, als auch in der Freebuild, als auch in der TekkBlock-Welt spielen und somit mehrere Spielstände haben.
Um auf TekkRiver joinen zu können benötigst du Tekkit classic (den Technic Launcher)
Wie komme ich auf den Server oder wie bekomme ich den Technic Launcher?
http://tekkriver.de/faq/wie-komme-ich-auf-den-server/
Besuche doch mal unseren Server und finde Abwechslung zum "normalen Minecraft".
Suche dir in einer der vielen Städte ein Grundstück aus und baue dir ein Haus mit
Maschinen, Computern oder auch einem Heimkino. Weitere Herausforderungen erwarten
dich dann auf einer TekkBlock-Insel oder zur Abwechslung in der Freebuild oder bei
einem Jump & Run in der FunWelt!
Wir freuen uns auf Deinen Besuch!
---
english description:
TekkRiver – tekkriver.de
TekkRiver offers you many possibilities:
ServerTowns – in these towns you find plots, which are flat, have the same size and the same price
UserTowns – these towns are from users for users; here the mayors define the building rules
Freebuild - build in the world without the borders of predefined plots and expand when you need; here are only a few items banned
TekkBlock – here you can build your own house on a sky-island (these islands are not the famous tekkit SkyBlock-islands)
Freebuild – In this world you are allowed to build anywhere, with only a few banned items
FunWorld – here you find some jump and runs, paintball, pvp, …
UserShops
some own plugins
a couple of nice buildings
econnomy with jobs
4+ years experience
Good to know:
You can lock your chests/Machines/doors with a [private]-sign, but they are automaticly locked on your plot.
To join our server you need tekkit classic/the technic launcher.